Brossard Hyundai Sponsors Minor Hockey on the South Shore.
April 03, 2019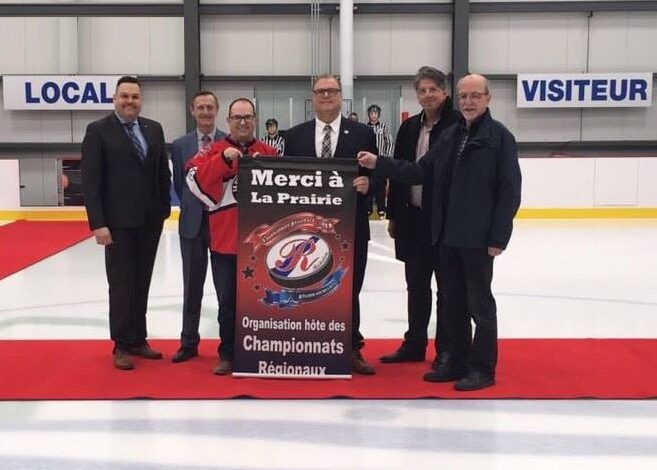 Brossard Hyundai participated in the official opening of the regional championships in La Prairie. Hockey Richelieu came to present a thank you banner for the organization of the championship. From left to right on the photo Mr. Philippe Gref, Brossard Hyundai Sales Manager, Mr. Luc Lajeunesse, Sales Manager at Promutuel Assurance Vallée du St-Laurent, Mr. Yanic Brisson, President of the Quebec Minor Hockey Association La Prairie, Mr. Donat Serres Mayor of Ville de La Prairie, Mr. Martin Lavoie, Director of Recreation Department of La Prairie and Mr. Jean-Guy Hurtubise, Vice President Hockey Richelieu. Brossard Hyundai has even transformed its logo to highlight the event.
---
Brossard Hyundai in collaboration with The Complexe Le Partage offer gifts to less fortunate children on the South Shore.
December 08, 2018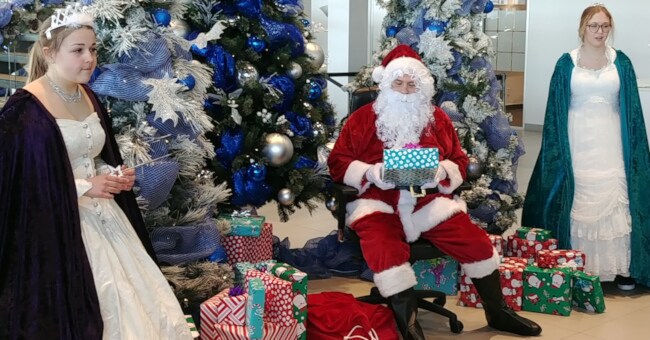 A big thank you to all those who have so generously participated in the distribution of gifts at Brossard Hyundai. Seeing the stars in the children's eyes reminds us with incredible force the importance of our acts of solidarity.
---
Offer a gift to a disadvantaged child
Novembre 1st 2018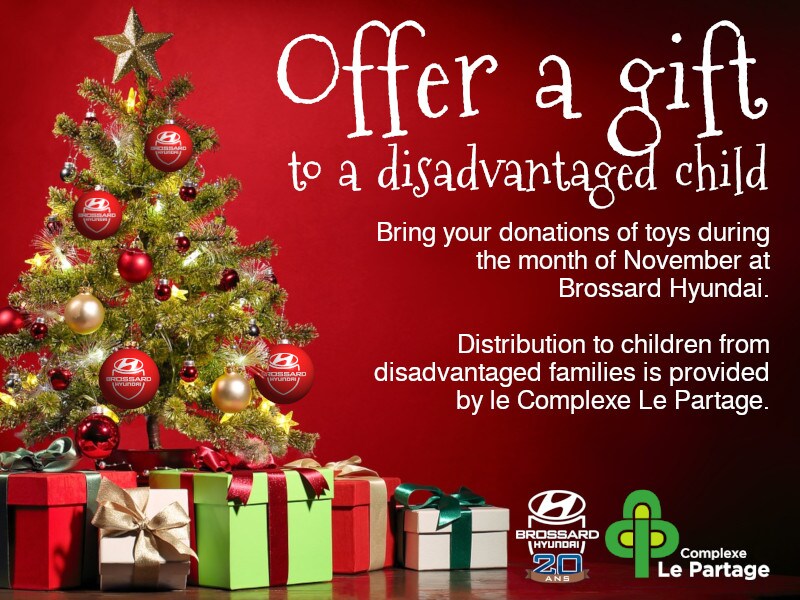 This year for the holidays, give a little sweetness to a child who will appreciate it. Come deposit your donations of toys at Brossard Hyundai

Distribution to children from disadvantaged families is provided by Le Partage Complex.


---
RENOVATIONS ARE COMPLETE!
November 14 2018
After 4 months of trailers, outdoor toilets and offices in boxes, all the staff is now installed in new offices. Phew! And it is spectacular. Brossard Hyundai adopts the new signature image of a certified dealer. A look and a design matching those of its vehicles.

The service department Reception doubled its surface. You will always get out of your car inside, sheltered from the elements. The waiting area is super comfortable. You will find a counter with electrical outlets and usb to charge your electronic devices, and of course, high speed WIFI. The guest counter always offers free pastries and fruits, tea and coffee
The used car department has benefited particularly from this adventure.  It is now five times larger, on two floors.
It will not only be a pleasant and comfortable place to buy and maintain your vehicle, it will also be an extraordinary workplace for the staff.
---